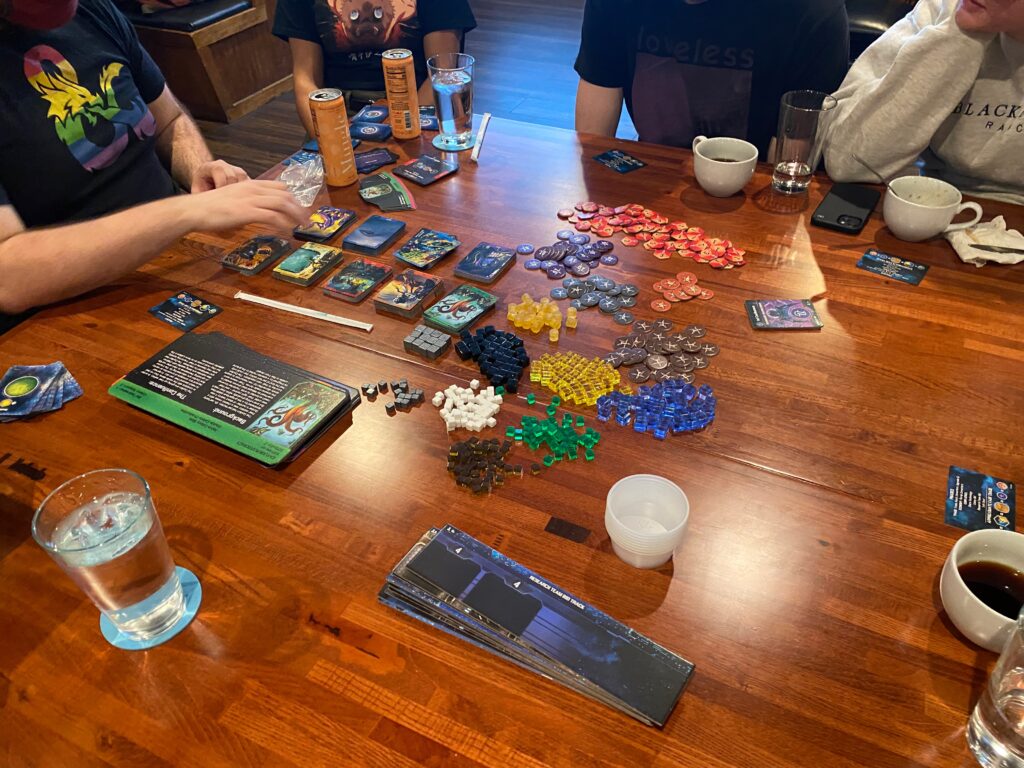 We were closed on Black Friday to enjoy a game day with our employees and families.
Sidereal Confluence
Sidereal Confluence: Trading and Negotiation in the Elysian Quadrant is a singularly unique trading and negotiation game for 4-9 players. Over the course of the game, each race must trade and negotiate with the rest to acquire the resource cubes necessary to fund their economy and allow it to produce goods for the next turn
Deception: Murder in Hong Kong
A game of deduction and deception for 4-12 players that plays in about 20 minutes.
In the game, players take on the roles of investigators attempting to solve a murder case – but there's a twist. The killer is one of the investigators! Each player's role and team are randomly assigned at the start of play and include the unique roles of Forensic Scientist, Witness, Investigator, Murderer, and Accomplice. While the Investigators attempt to deduce the truth, the murderer's team must deceive and mislead. This is a battle of wits!
Junk Art
In Junk Art, players are presented with junk from which they must create art. Thus the name.
Junk Art contains more than ten game modes, along with more than sixty big colorful wooden or plastic components. In one version of the game, players pile all of the wooden or plastic parts in the center of the table, then are dealt a number of cards, with each card depicting one of these parts. On a turn, a player presents their left-hand neighbor with two cards from their hand. This neighbor takes one card in hand, then takes the part shown on the other card and places it on their base or on other parts that they've already placed. If something falls, it stays on the table and the player continues to build on whatever still stands. Once players have finished playing cards, whoever has the tallest work of art wins.
Terraforming Mars: Ares Expedition
An engine-building game in which players control interplanetary corporations with the goal of making Mars habitable (and profitable). You will do this by investing mega credits (MC) into project cards that will directly or indirectly contribute to the terraforming process. In order to win, you will want to accumulate a high terraform rating (TR) and as many victory points (VP) as you can. Players raise their TR by increasing global parameters: oceans, oxygen, and temperature. TR also determines each corporation's basic income, and, at the end of the game TR counts as VP. Additional VP and production capabilities are awarded for building project cards and other actions taken during the game.