Game Details

Name
The Expanse Board Game (2017)
Complexity
Medium [2.78]
BGG Rank
1767 [7.18]
Player Count (Recommended)
2-4 (3-4)
Designer(s)
Geoff Engelstein
Artist(s)
Uncredited
Publisher(s)
Pendragon Game Studio and WizKids (I)
Mechanism(s)
Action Points, Action/Event, Area Majority / Influence, Campaign / Battle Card Driven, Catch the Leader, Take That, Variable Player Powers and Victory Points as a Resource
Participants
Mark
Sean
Katey – Winner
Frank
Rules we Missed
BGG Clarifications
Being able to move up to one band means you can also move within a band.
Photo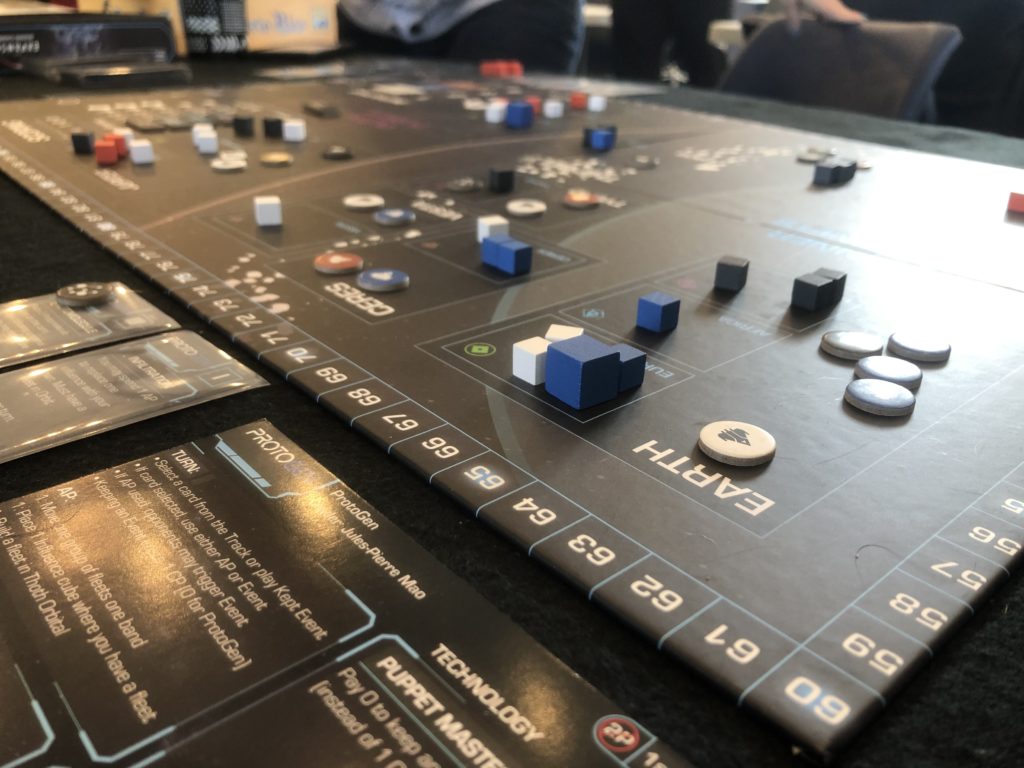 About the Game
This area control game plays well with 4 players. Rules are simple. On you turn, you have the option to purchase a card. Each card has a number of actions points and an event. Events can only be used by the factions shown on the card. Once you have chosen your card, you can either use the action points or the event. The action points allow you to move/build your fleets and establish influence in different areas. If you use the action points each faction shown the card has the option to use the event based on the order of the initiative track.
Once a scoring round is initiated, your influence and fleets are used to see who has control of each sector. Points are awarded based on this. The person in last place gains control of the Rocinante. this catch up mechanism gives the player extra options to use during the scoring round.
Final Thoughts
The theme of the game is nice for those that are familiar with the books or television show. However prior knowledge in no way affects gameplay.
The catch up mechanism works well. In our case the person in last, up until the 5th scoring round, won the game.
This game was a long one since we were learning straight from the instructions. Future games should be much quicker, since all the rules were very straight forward.